An Argument for Using Advertising to Engage Students in Primary Source Analysis
The Popularity of Advertising
The Super Bowl isn't just a sporting event – it is one of the most important nights for advertisers. Last year a record 114.4 million people watched the broadcast, more than any other TV event.
Even people who don't care for sports might tune in just for the half-time show and commercials. If you really don't care for sports or have something against Coldplay and Beyoncé you can always watch the commercials on YouTube – in fact, some companies have already released full or teaser versions.
Obviously, Super Bowl night isn't the only time your students will see commercials this year. Despite the growth of streaming and mobile media, TV remains the primary method for viewing long form video content , and there are 116.4 million TV homes in the U.S. for the 2015-2016 TV season according to Nielsen. That's why advertisers are still willing to pay millions of dollars for 30 seconds of airtime.
Factor in all the advertising seen on social media platforms like YouTube, Facebook, and Twitter and you can safely assume that the typical American students sees or hears at least one advertisement every day. YouTube alone generates billions of views everyday according to their statistics page.
An Opportunity for History Teachers
Your students are going to come back to class on Monday with lots of opinions about the game, the half-time show, and the commercials. Why not direct that energy towards analyzing primary sources?
Vintage advertisements are a great introduction to primary source analysis because students see advertisements every day. Reviewing some of the main techniques advertisers have used for hundreds of years is a great way to transition from discussing your favorite Super Bowl commercials to doing in-depth analysis of advertisements from whatever time period you are studying in class.
Working with vintage advertisements will improve student understanding of the time period the ads come from and improve media literacy skills. It's also important to note that one positive experience with primary sources can give students more confidence the next time you introduce primary sources of a higher difficulty.
Classroom Tested!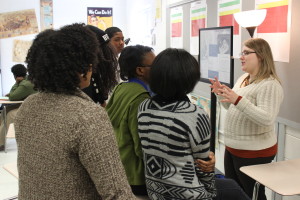 In January, the Georgia Historical Society brought an interactive presentation to twelve schools in the Savannah area as part of the Georgia History Festival. These interactive programs focused on analyzing historic advertisements from post-WWII America (think Mad Men). Students learned about three major themes in advertising as they rotated through stations to analyze six vintage advertisements. Guided questions were provided to help the students and facilitator engage in the historical inquiry process. Students had a chance to show what they learned by creating their own advertisement as the capstone activity for the presentations. See below for a full lesson plan and other free resources that can be used to recreate the experience in your classroom.

GHS presented to 1,057 students in grades 5, 8, & 10. Here are a few things we learned:
Students love talking about advertisements! It made looking at primary sources less daunting.
It takes coaching to get students to look closely and think about primary sources. Our facilitators worked very hard to encourage students to really take time to look at the images and READ the words on the advertisements before launching into the guided questions.
Activating prior knowledge is a great way to begin. We started every session by brainstorming everything the students thought they knew about America in the 1950s and 1960s. We also started by clarifying student understanding of the difference between primary and secondary sources. This brainstorming session helped them make connections between what they saw in the advertisements and what they had learned about American life after WWII.
Students will notice details that you had never noticed before!
FREE Resources to Support Vintage Advertisement Analysis!
Download Lesson Plan and Guided Questions for "What's the Pitch" In-School Presentations.
Download Station Posters. *This PDF may contain primary sources with copyright restrictions. Please only use this PDF in your classroom.
Watch this Video for Examples of the Presentation in Action:

Sophia's Schoolhouse Videos Series "Recognizing Common Themes in Advertising"
Join Leisa Vaughn, Georgia Historical Society Programs Intern, in Sophia's Schoolhouse to improve your media literacy skills. Learn how advertisers, past and present, use emotions, product positioning, and ideas of success and rewards to appeal to customers.
Georgia Historical Society Online Exhibit "From Waffle Fries to Global Skies: How Georgia Business Created the Modern World." You can find some excellent examples of advertisements from iconic Georgia businesses in the new GHS online exhibit.The online materials highlight the stories of iconic Georgia businesses in order to explore major themes in Georgia and American history from 1945-1991.
Online Repositories with Vintage Advertisements
Georgia Historical Society digital image catalog.
John W. Hartman Center for Sales, Advertising & Marketing History at Duke University.
Internet Archive Moving Image Archive
Great questions for students to answer as they look at vintage advertisements:
What product is the advertisement selling?
What company made the advertisement?
When was the advertisement made?
Where was the advertisement published? (TV, Magazine, Newspaper)
Who are they selling to? In other words, who is the main audience?
What words and images stick out at you?
Does this advertisement make you feel a specific emotion?
Would you buy the product?
What can this advertisement tell us about the time-period in which it was created?
Additional Resources

Admongo.gov teaches kids to apply critical thinking skills through a series of fun and challenging interactive games. There are also lesson plans.
MediaSmarts is a Canadian not-for-profit charitable organization for digital and media literacy. They have developed many great lesson plans and videos for teachers.
Persuasion Through Advertising Unit from Scholastic
Advertising Techniques Printable from TeacherVision